An elaborate, often exquisite, shaggy feline story from Fifth Generation master Chen Kaige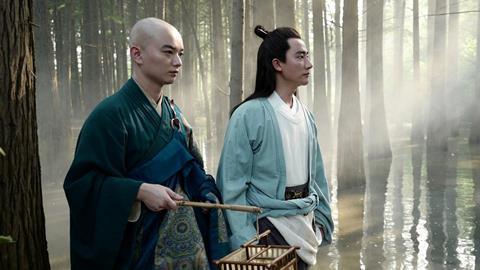 Dir: Chen Kaige. China/Japan. 2017. 129mins
In the run-up to its release, Legend of the Demon Cat has been variously categorised as an action-adventure, a drama, a fantasy, a murder mystery, and even a period horror film. Adapted from a novel by Baku Yumemakura, this lavish Sino-Japanese co-production turns out to be a mixture of some of the above. This is not to say that Chen Kaige's latest film is at all incoherent, but it does make for another curious undertaking for the Fifth Generation figurehead following his lightweight wuxia Monk Comes Down the Mountain (2015).
The mammoth sets built for the film over its extensive five years in development will become a theme park attraction
Set in the late Tang Dynasty, Demon Cat offers the kind of resplendent, CGI-enhanced period recreation that will surely lure domestic audiences during the Christmas and international New Year period, which has become a popular movie-going timeframe in China. Overseas, Chen's name still carries weight regardless of an erratic track record since hitting an art-house peak with Farewell My Concubine (1993) and Temptress Moon (1996), but Legend of the Demon Catis likely to get lost in the shuffle given the current abundance of effects-heavy Asian exports.
While the film's sumptuous visuals aim to seduce audiences who wish to be transported back to China's golden age of cosmopolitan culture, one of its protagonists, poet and imperial scribe Bai Letian (Huang Xuan), has similar yearnings. Living in the ancient capital of Chang'an (today Xi'an) during the reign of Emperor Dezong, he romanticises the progressive time of Emperor Xuanzong when the legendary poet Li Bai rose to artistic prominence thanks in part to imperial patronage. When the Emperor suddenly passes away following seven nights without proper sleep, Bai Letian is charged with investigating. He teams up with visiting Japanese monk Kukai (Shota Sometani), who suspects that a demon cat may be responsible when he spots the suspicious black feline lurking on the roof of the palace.
These sleuths are actual historical figures with Kukai having traveled to China in 804 as part of a government-sponsored study expedition, while Bai Letian (better known as Bai Juyi) is one of the era's most accessible poets. Legend of the Demon Cat is not a biopic, although the Japanese distributor is selling it as the story of Kukai with Sometani at the centre of the marketing campaign. Still, aspects of their lives and work are integrated throughout.
As it becomes apparent that the reason for the cat's disruption of the imperial court has its vengeful roots in the past, the budding detectives learn about Yang Guifei, one of the 'Four Beauties of ancient China' whose heart-wrenching saga was chronicled in Bai Letian's famous narrative poem "Song of Everlasting Sorrow". Played here in suitably alluring fashion by Sandrine Pinna, Yang was once the favored concubine of Emperor Xuanzong (Zhang Luyi), but met an unfortunate end, and the cat is leaving a trail to the responsible party.
Taking full advantage of the period's potential visual sweep, Chen and cinematographer Cao Yu swoop through the city's public leisure and private pleasure spaces to survey an opulent world that is open to influences from elsewhere. The mammoth sets built for the film over its extensive five years in development will become a theme park attraction. With regards to the exteriors, the endgame for this feat of construction is also apparent: Chang'an here looks so freshly constructed that, when Bai Letian and Kukai travel by boat to follow a lead they look like eager tourists in dress-up who have arrived early to have the park all to themselves. It's easy to get immersed in the interiors, too, with Chen pulling off a particularly tantalizing party set piece where a stunning dance performance takes center stage amidst a wonderfully vivid sea of reds, greens, and yellows.
Such displays show that, since experiencing humiliating online derision for the subpar graphics in his fantastical wuxia The Promise (2005), Chen has caught up with technology, or at least become more careful when choosing his visual effects house. However, making a threat out of a cat proves tricky. The ensuing prowling point-of-view shots, 'sinister' silhouettes, and animated attacks are likely to prompt unintentional laughs as this vindictive feline is not so much menacing as merely mischievous, particularly when disrupting an elite banquet.
The film's biggest drawback, though, is its 'story-within-a-story' plotting as the extended flashbacks that dominate the second half serve to sideline its ostensible leads. Although set during a period of relative modernity, both Huang and Sometani seem too contemporary for their roles yet nonetheless develop a nice, cross-cultural interplay so it's a shame when the mystery ends up being explained through heavy exposition rather than unraveled. The staggered resolution is underwhelming despite an increasingly gothic palette and a strong score by Klaus Badelt and Misha Segal that strives to create a swell of emotion for the tragic Yang Guifei.
As such, Chen winds up with little more than an elaborate shaggy cat story, although one that is not without its fair share of incidental pleasures